Regular price
$64.99 USD
Sale price
$17.99 USD
Unit price
per
Sale
Sold out
Pet dog snuffle mat for nose smell training
Introducing the extraordinary Pet Dog Snuffle Mat Nose Smell Training Sniffing Pad! This innovative dog puzzle toy will keep your furry friend entertained for hours while providing essential mental stimulation and slow feeding. It's more than just a toy, it's an interactive training tool that promotes healthy eating habits and relieves stress.
Interactive toy for slow feeding and mental stimulation
Crafted with love and care, this snuffle mat is made from high-quality fleece material, ensuring durability that lasts through countless play sessions. The dimensions of this amazing product have been meticulously measured to offer the perfect size for your pet's enjoyment. With options like Big flower (73X104), Radish (70X40), Sunflower (50X50), Orange (85X50), or Blue (80x 50) – you can choose the one that suits your pet best!
Made of fleece material washable and durable
The design of our unique 360 halfmoon shape mimics nature, allowing pets to stretch their bodies comfortably while enjoying a blissful nap afterwards. Trust me when I say they'll be snoozing in no time after all those playful moments!
Enrichment tool for stress relief and pet foraging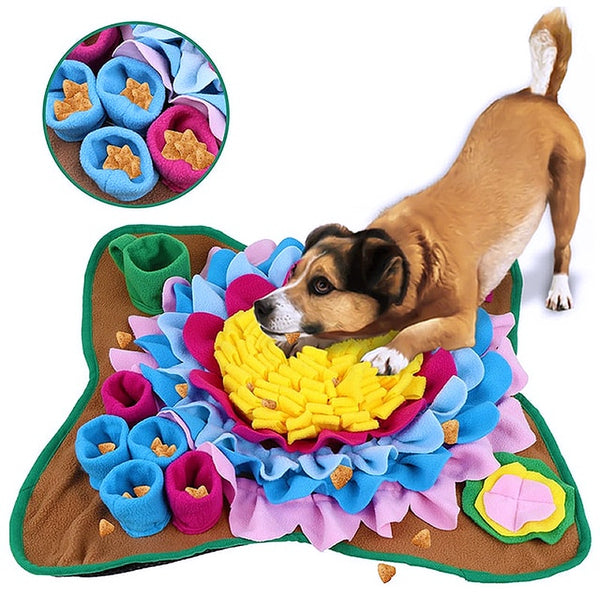 Not only does this nose-smell training pad provide endless fun designed to stimulate your dog's mind and encourage mental engagement during mealtime. It's a mat with various pockets and compartments where you can hide treats or kibble, providing your dog with a fun and challenging feeding experience.
Suitable for dogs of all sizes no logo or label
Worried about pricing? Fear not! Our products come at affordable prices without compromising on quality assurance - because we believe every fur baby deserves nothing but the best. So why wait? Treat your precious pup today with this incredible Pet Dog Snuffle Mat Nose Smell Training Sniffing Pad – both they and their taste buds will thank you!
Frequently Asked Questions
How does the Puzzle Toy Mat Feeder work?
Simply scatter your dog's food or treats across the mat's surface or tuck them into the pockets. Your dog will then use its natural foraging instincts to explore and find hidden rewards. This engages their senses and provides mental stimulation, turning mealtime into an engaging activity.
Are snuffle mats good mental stimulation for dogs?
Yes, snuffle mats are good mental stimulation for dogs.
Is the mat easy to clean?
Yes, the Puzzle Toy Mat Feeder is designed for easy cleaning. Most mats are machine washable or can be easily wiped down with a damp cloth. Always refer to the care instructions provided with the mat.
How often should dogs use snuffle mats?
Dogs can use a snuffle mat as often as they enjoy, but at least once or twice a week is recommended.
View full details