Regular price
$14.99 USD
Sale price
$9.99 USD
Unit price
per
Sale
Sold out
High-quality rubber and nylon material for durability and strength
Introducing our remarkable 2m long Dog Leash Pet Lead, the ultimate companion for all dog owners! Walks have never been more enjoyable and secure with this non-slip rubber nylon training walking rope. Crafted to perfection, it is specifically designed to cater to the needs of small, medium, as well as large dogs.
Nonslip design ensures a secure grip during training or walking
Made from a combination of top-quality rubber nylon and copper hook materials, our leash ensures durability like no other. The sturdy construction allows you to maintain full control over your furry friend without compromising on their comfort. With its unique anti-skid design feature, you can bid farewell to any concerns about slipping or sliding during walks!
Suitable for small medium large and extra large dogs
The versatility of our Dog Leash knows no bounds - it's perfect for breeds such as teddy chihuahuas, poodles, Pomeranians, Bichon Frises, Pitbull Bulldogs, Labradors, German Shepherds, Huskies, and countless others! No matter what size or breed your loyal sidekick may be, this leash guarantees an optimal walking experience.
Copper hook provides reliable attachment to your dog's collar or harness
Imagine strolling through the park effortlessly with your four-legged companion by your side; that dream becomes a reality when using our marvelous leash. Watch in awe as heads turn, the envy clearly etched across fellow pet parents' faces impressed by both functionality and style. With each step taken, you'll feel connected not just physically, but emotionally too - building an unbreakable bond between man (or woman)and best friend.
Perfect leash option for various breeds like chihuahua poodle bulldog etc
Whether enjoying leisurely strolls around town or powering through intense training sessions, durability should NEVER be compromised. That belief lies at the very core of why we created this masterpiece. Your peace of mind is invaluable – rest easy knowing that every aspect has been carefully considered, and prioritized. And don't let those damp rainy days deter those bonding moments.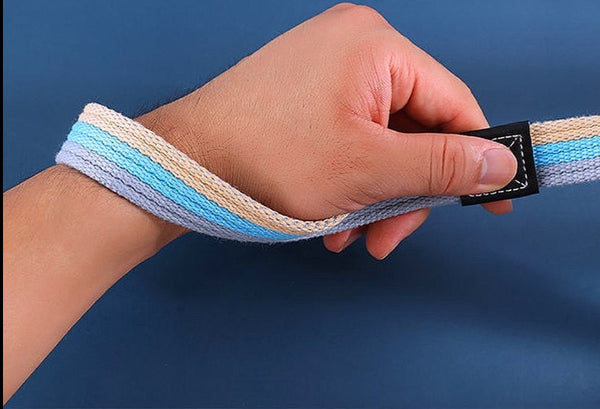 Our reliable material selection protects against wear and tear even under harsh weather conditions The 2m long Dog Leash Pet Lead is here to dramatically transform your walks. Bringing together style, functionality, and security, this exceptional leash has no limits. Join the countless satisfied pet parents around the world who have already experienced this leash's unwavering excellence. Achieve optimal control and unparalleled comfort with each stroll- because a happier, healthier, bonded canine companion awaits.
Frequently Asked Questions
What is the material of the non-slip leash?
The Non-Slip Rubber Nylon Dog Leash is crafted with durable rubber and nylon material.
Is it suitable for all dog sizes?
Yes, the Non-Slip Rubber Nylon Dog Leash is suitable for dogs of all sizes.
Does the nylon dog leash have a secure grip?
Yes, the non-slip design of the leash guarantees a secure grip during training or walks.
What type of attachment does it have?
The Non-Slip Rubber Nylon Dog Leash features a reliable copper hook attachment to your dog's collar or harness.
Is the it suitable for different dog breeds?
Absolutely! The Non-Slip Rubber Nylon Dog Leash is suitable for all dog breeds, including chihuahuas, poodles, bulldogs, and more.
View full details