Regular price
$34.99 USD
Sale price
$16.99 USD
Unit price
per
Sale
Sold out
Creative hover soccer disc toy with colorful LED lights
Introducing the Electric Interactive Puppy Dog Toys Soccer Ball Smart Ball, the ultimate playmate for your furry friend! Whether you have a small, medium or large dog, this toy is designed to keep them entertained and active all day long.
Can be played indoors or outdoors on flat surfaces
With its creative hover soccer disc design, our smart ball effortlessly glides over flat surfaces with ease. It's like having their very own mini-soccer game right in your living room! Watch as your pup chases after it with excitement and joy!
Suitable for small medium and large dogs
Not only is this toy perfect for indoor playtime fun, but it also makes a great outdoor companion. Take it to the park or beach and watch as your four-legged buddy jumps around in pure delight. The possibilities are endless!
Made of ABS Electronic Components material for durability
Featuring vibrant LED lights that illuminate during playtime, our electric interactive puppy dog toy adds an extra element of fun and entertainment. Your dog will be captivated by the colorful light display as they interact with their new best friend.
3 AAA batteries are required to power up
Made from high-quality ABS electronic components, rest assured that this toy can withstand even the roughest of play sessions. We understand how energetic dogs can get! Please note that 3 AAA batteries are required (not included) to power up this amazing device. Measuring just 18cm x 6cm in size, our smart ball is compact enough for easy transport while still offering plenty of bounce and roll capabilities.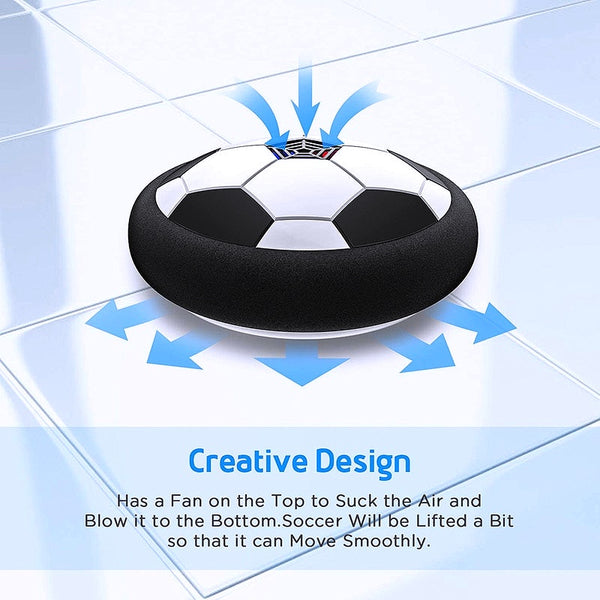 So why wait? Treat your beloved pet today with our Electric Interactive Puppy Dog Toys Soccer Ball Smart Ball - guaranteed hours of endless fun!
Frequently Asked Questions
Can this toy be played indoors and outdoors?
Yes, absolutely! The Engaging Smart Soccer Ball Dog Disc Toy is designed for use on flat surfaces both indoors and outdoors. Whether you're playing fetch in the living room or having a fun time at the park, your dog can enjoy the toy anywhere.
What material is the toy made of?
The Engaging Smart Soccer Ball Dog Disc Toy is made of durable ABS (Acrylonitrile Butadiene Styrene) and electronic components. This material ensures the toy's longevity and resistance to rough play, making it a reliable choice for active dogs.
Does the toy require batteries?
Yes, the Engaging Smart Soccer Ball Dog Disc Toy requires 3 AAA batteries to power up its interactive features. Please note that batteries are not included with the toy.
What are the dimensions of the toy?
The smart ball measures approximately 18cm in diameter and 6cm in height. This compact size makes it easy to transport while still offering enough bounce and roll capabilities to keep your dog entertained.
How does the smart ball work?
The smart ball combines the features of a soccer ball and a disc toy, making it unpredictable and engaging for your dog. It bounces and rolls in various directions, encouraging your dog to chase, pounce, and play.
View full details