Regular price
$39.99 USD
Sale price
$19.99 USD
Unit price
per
Sale
Sold out
Interactive and sensory-stimulating dog toy with sound effects
Introducing our latest innovation in pet toys - the Interactive Dog Toys Bouncing Giggle Shaking Ball! This electronic vibrating automatic toy is designed to keep your furry friend entertained for hours on end while providing them with a sensory-stimulating experience like no other.
Automatically bounces for 15-20 seconds then shuts off
These interactive dog squeak toys are not only perfect for dogs, but also cats who need some playtime excitement. When your little furball makes contact with the ball, it comes alive and starts bouncing around in an unpredictable motion. And here's the best part - it automatically shuts off after 15-20 seconds of non-stop action!
A plush natural cover material that is safe and durable
But that's not all! Our ingenious creation includes an interactive dog-to-dog sound effect that will surely grab your pup's attention and heighten their senses even more. The plush natural cover material adds another layer of fun and safety to this delightful toy, making sure durability is at the top of its priority list.
ABS insulation prevents electric shock, not a chew toy
Let me assure you folks; ABS insulates electricity so playing with this ball won't result in any shocking surprises. However, please note that the inside electronic ball is NOT meant for chewing – we'd hate to see those pretty teeth damaged! So be sure to keep away chewy pups from nibbling at it without any plush cover protection.
Enhances the happiness health and fun of your dog's life
This hypnotic masterpiece measures approximately 19CM in diameter and operates using three 'A' batteries (not included). To activate our magical contraption simply install the batteries as directed and press the switch button firmly upon insertion. Give it a good shake or tap aggressively if needed – once awakened, watch as joyous chaos ensues!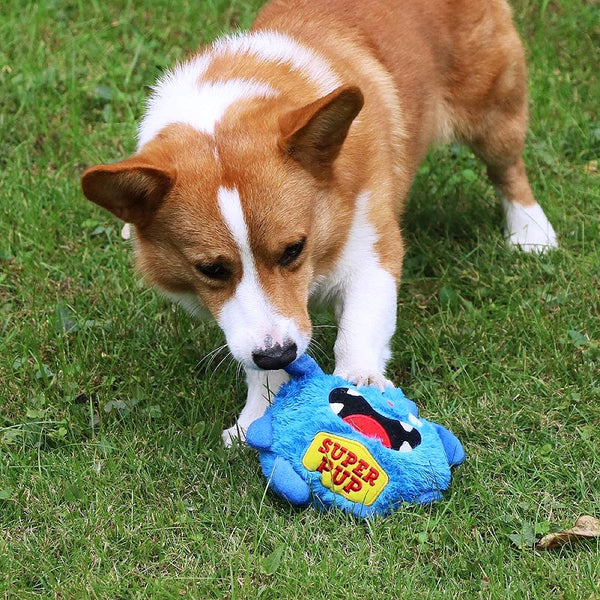 Once playtime has come to an end (although we guarantee endless amusement), don't worry about turning off anything manually because guess what? The Incredible Bouncing Giggle Shaking Ball does all by itself after 15-20 seconds of wild movement frenzy-ishness...until shaken awake again!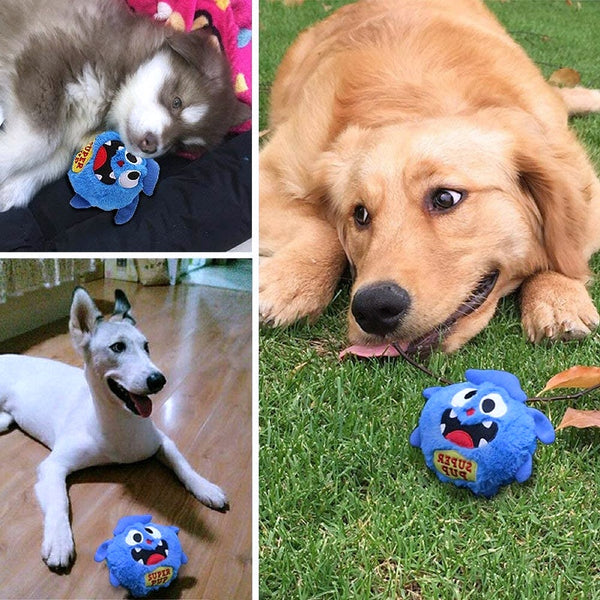 So say goodbye to bored pups and hello to boundless joy! Get yourself an Interactive Dog Toys Bouncing Giggle Shaking Ball today - because life is simply better when filled with wagging tails and uncontrollable giggles!
Frequently Asked Questions
How long does the automatic bouncing last?
The toy's automatic bouncing lasts for approximately 15-20 seconds. This duration is designed to maintain your dog's interest and keep the play experience engaging without overstimulating them.
What is the material of the plush cover?
The Giggle Ball Monster Dog Toy features a plush natural cover material that is both safe and durable. This material is chosen to withstand your dog's play and ensure longevity while providing a comfortable texture for them to interact with.
What type of batteries does the toy use?
The toy operates using three 'A' batteries, which are not included in the purchase. Make sure to insert the batteries properly following the provided instructions to ensure optimal performance.
Can this toy help keep my dog mentally stimulated?
Certainly. The unpredictable bouncing and engaging sensory experience offered by the Giggle Ball Monster Dog Toy can help keep your dog mentally stimulated and prevent boredom. It's an excellent way to provide both physical and mental exercise for your furry friend.
How does the toy's automatic bouncing feature work?
The Giggle Ball Monster Dog Toy is equipped with an automatic bouncing mechanism. Once your dog makes contact with the ball, it activates the internal mechanism, causing the ball to bounce around in an unpredictable manner. This feature stimulates your dog's natural curiosity and provides an interactive and dynamic play session.
View full details