Regular price
$19.99 USD
Sale price
$9.99 USD
Unit price
per
Sale
Sold out
CHOOSE YOUR DESIGNS HERE - From a-z
 
Personalized ID tags for pets ensure safe return if lost
Introducing the Personalized Pet Cat Dog ID Tag Collar Necklace Tag! As devoted dog owners, we understand the constant worry of what could happen if our beloved furry friends ever go missing. That's why personalized dog ID tags are essential in ensuring their safe return.
Variety of materials and sizes available for customization
Our tag materials and sizes ensure both style and durability. Choose from shiny steel or shiny brass for a sleek look, or opt for industrial steel or brass for a more timeless appeal. Shiny brass even boasts a hand-polished gold surface to add that touch of elegance. Made with 316L food-grade stainless steel, these tags are not only attractive but also safe - giving you peace of mind.
Suitable options available for different dog or cat breeds
With four different sizes available, finding the perfect fit is easy. Extra small is ideal for little puppies or cats while small fits breeds like Pug, Dachshunds, Beagle, Chihuahua and more. Medium suits Bulldog, Dalmatian Boxer, German shepherd + more. Large accommodate bigger breeds such as Australian Shepherd, Basset Hound, and Bernese Mountain dogs.
Step by step guide is provided on how to order the product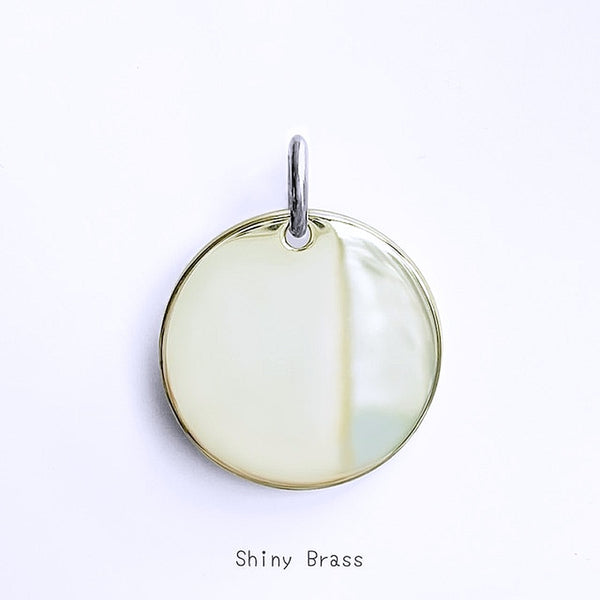 Ordering your unique pet tag has never been easier! Simply choose your material and size then provide us with personalization details including your pet's name, phone number, and design pattern. Furthermore, you have ample font styles to choose from, to create a truly one-of-a-kind piece. Be sure to follow our order guidelines, and reach out to us if needed!
Handmade process ensures uniqueness with quick turnaround time 
Handmade with love. We take great pride in creating each piece uniquely. Invest in this beautiful accessory as a reminder of the love we share with our fur babies.
Frequently Asked Questions
What is the purpose of a custom engraved pet ID tag collar?
The purpose of a custom engraved pet ID tag collar is to ensure the safe return of your pet if it ever gets lost. The tag contains important contact information for identification.
What materials are available for the ID tags?
We offer a variety of materials for ID tags, including stainless steel, aluminum, and brass. Each material has its own unique look and durability.
Can I choose the size of the ID tag collar?
Yes, you can choose the size of the ID tag collar to perfectly fit your pet. We have different sizes available to accommodate pets of all breeds and sizes.
Do you have options for different dog and cat breeds?
Absolutely! We cater to different dog and cat breeds, offering suitable options for all. You can choose a tag design that matches your pet's breed or personality.
Is the ordering process easy?
Yes, the ordering process is a breeze. Kindly enter the dog's name, number, and design in the boxes given above. It's quick and easy!
View full details